Serving breakfast, lunch and dinner daily from 8 am to 8 pm.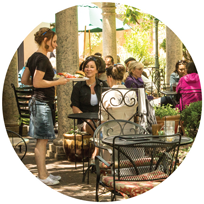 It's no secret that the enchanting Secret Garden Café is one of Sedona's favorite spots to treat yourself to some fabulous dining. Located just inside the northern entrance of Tlaquepaque, this cozy European-style bistro is known for its fresh, healthy and delicious menu items. From Bistro Sliders with 100% grass-fed beef and Chicken Corn Tostadas topped with homemade salsa and avacado, to our gluten-free Shrimp Puttanesca and a traditional vegan Chile Relleno, you're sure to find something to entice your palette!
If you love dining in nature year round with colorful garden views, then patio dining is for you! Dog-friendly, casual and with an easy going pace, the super friendly and knowledgeable Secret Garden staff will take very good care of you.
Be sure to check out our premium wines, handcrafted beers and top shelf spirits. Head to the bar for Happy Hour, Monday through Friday, 4 to 6 pm, and relish boutique wines by the bottle (high tech dual cooled for optimum flavor) or on tap with organic options. Enjoy specialty beers by the bottle and 10 on tap, including gluten free options, and regional favorites that alternate seasonally.
   I am giving five stars for excellent service and food. We had a large crowd of 9 with four children and a dog for lunch. They seated us promptly and everyone was so welcoming. It was Thanksgiving weekend, and we loved the turkey salad croissant! It was wonderful. Great patio. They are dog friendly on the patio, too! ~ James • Denver, CO