Welcome to the Secret Garden Café where you can slow down and enter a magical world inside and out. Our newly renovated interior gleams with modern and rustic design elements. It's where elegant simplicity meets sophisticated contemporary. Dine in our light-filled, intimate space or relax in the garden patio in surround of floral colors as you sip a cappuccino, order a scrumptious breakfast, partake of a delectable lunch, or settle down for a memorable gourmet dinner.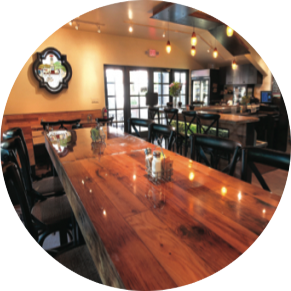 The secret to our 18-year success? Everything we serve is made daily from scratch. And always with fresh and healthy ingredients. Check out the wide variety of menu items. There is something here for everyone. And we made a commitment some time ago to offer plenty of gluten-free, vegetarian and vegan choices. And our desserts? Resistance is futile!
If you love great wines from boutique vineyards (California mostly) and premium local handcrafted beers, you love what we have painstakingly selected for you. We also like to embrace new food and beverage trends. Our dual-zone wine cooler creates the ideal storage environment for both red and white wines. Try our wines on tap—a trending delivery system for an optimal wine experience. Check them out at the wine bar anytime or during happy hour where organic wines by the bottle are also available. And if you you're a cocktail person we carry top shelf brands.
One of the most popular features of the Secret Garden Café is our year round patio dining (covered and comfy in winter). It's one of the largest in Sedona and great for larger parties, families and get-togethers. Our super friendly staff will always take great care of you. Come enjoy our cozy European-style bistro café, 8 to 8 pm and leave refreshed and happy!
home I our story I menus I bar I fans I contact & location
©2017 Sedona Secret Garden Cafe at Tlaquepaque • Sedona • (928) 203 9564 • webdesign by Thunder Mountain Design, Sedona